Nachdem all die kleinen Bauern förmlich von den großen Betrieben überrannt wurden, sind es jetzt die Großbauern, die derzeit in einer der schwersten wirtschaftlichen Krisen stecken, die die Branche in den letzten Jahrzehnten erlebt hat. Der Verkauf von Milch bricht nach all den aufgedeckten Skandalen ein! Außerdem belegen immer mehr Studien, dass Kuhmilch gut für Kälber sei, aber nicht für uns Menschen. Und genau bei den Kälbern gibt es ein "grausames Geheimes" worüber die Branche nicht gerne spricht. Immer mehr Grausamkeiten aus der Milchindustrie werden aufgedeckt. Erst kürzlich wurde bekannt, dass es in Großbritannien immer noch billiger ist, männliche Kälber zu töten, als sie aufzuziehen, und nicht nur dort, sondern auch in Deutschland. 21 Millionen männliche Kälber werden weltweit jährlich getötet. Sie werden als "Abfallprodukte" der Milchindustrie angesehen. Das Töten der männlichen Kälber gleich nach der Geburt ist als "schmutziges Geheimnis" bekannte Praxis. Das Interesse an veganen und vegetarischen Produkten steigt, insbesondere nachdem die Verbraucher sich der Grausamkeit bewusst geworden sind, die mit der Herstellung tierischer Lebensmittel verbunden ist. Die Milchindustrie hat es jedoch geschafft, sich als ethische Industrie zu präsentieren. Doch nachdem in den USA  ein Molkereiunternehmen von Nestlé wegen Tiermissbrauchs angeklagt wurde und auch in einer bislang schrecklichsten Undercover-Mission bei einer der größten Molkereien in den USA, die Milchprodukte für  Coca-Cola Corporation herstellt, grausame Tierqualen aufgedeckt wurden, betrifft es jetzt die Milchbauern, die Müller-Milch in Großbritannien beliefern. Eine  Undercover-Recherche aus Großbritannien zeigt wie Kälber im Alter von neun Tagen, die im Oaklands Livestock Centre in Shropshire getreten, geschlagen und geworfen werden. Die Milchbauern liefern Milch an Sainsbury's via den Milchgiganten Müller. Da es verboten ist, Kälber auf den Milchbetrieben zu erschießen, landen sie auf Sammelstellen. Dort waren die kleinen Kälber 21 Stunden ohne Futter und vollständig ohne Wasser gehalten. Wer überlebt, auf den wartet die Schlachtbank. Sie werden auch für die Tiernahrung verarbeitet. Weitere Untersuchungen haben eine weitere schockierende Tatsache ergeben – die weit verbreitete Verwendung der Häute dieser Kälber für die Lederindustrie. 
"Grausames Geheimnis" der Milchindustrie! Männliche Kälber: kaum auf der Welt, werden sie getötet
Bereits 2020 ergab eine Recherche, dass irische Milchkälber auf ihrer Reise zu Kalbfleischbetrieben in Europa schrecklichen Misshandlungen ausgesetzt sind. Gerade einmal wenige Wochen alt sind die Kälber aus der Milchwirtschaft, wenn sie aus ganz Irland zusammengesammelt und auf ein Schiff verladen werden. In Frankreich geht es dann mit dem LKW weiter zu den Schlachtbetrieben, bevor sie als Sonderangebot in den Supermärkten und Discountern angeboten werden. Viele Kälber verenden bereits, bevor sie das Schlachthaus erreichen. Die Aufnahmen der Tierschutzorganisation Eyes Onv Animals und der französischen Organisation L214 waren erschreckend und an Tierquälerei schwer zu toppen. Sie haben die brutale Behandlung von  jungen Kälbern aufgedeckt, die von Irland in die Niederlande transportiert und dort als Kalbfleisch verkauft wurden. Siehe: "Grausames Geheimnis" der Milchindustrie – Aufnahmen zeigen, wie Kälber auf dem Transport misshandelt werden – Newborn Irish cows beaten, jumped on and dragged by ears in transit to Europe, investigation reveals
Das dies kein Einzelfall war, zeigen die neuen Undercover-Recherchen von Animal Justice Project (AJP) in Großbritannien, die im April 2021 veröffentlicht wurden. Undercover- Aufnahmen, zeigen Kälber im Alter von neun Tagen, die im Oaklands Livestock Centre in Shropshire, Großbritannien, getreten, geschlagen und geworfen werden. Dieses Zentrum fungiert als wichtige Drehscheibe für männliche Kälber und gehört dem renommierten Kälberhändler Derek Whittall.
Zu den in Oaklands festgestellten Verstößen zählen Kälber, deren Schwänze brutal angehoben wurden und sie wurden an ihren Ohren mitgezogen. Kälber, die durch Plastiktüten ängstlich waren und zerbrechliche und nicht entwöhnte Kälber, die mehrfach geworfen und geschlagen wurden. Eigentlich müssen Kälber zwei Mal pro Tag gefüttert werden, doch diese Kälber waren 21 Stunden ohne Futter und  ohne Wasser, was einen Verstoß gegen das Gesetz zum Schutz von Nutztieren darstellt.
Zu den Bestimmungen, gegen die verstoßen wurde, gehören das Tierschutzgesetz und die Verordnung des Rates der Europäischen Union. Dies ist auch nicht der erste Verstoß für Derek Whittall; Er ist bereits verurteilt worden, nicht förderfähige Kälber im Rahmen des staatlichen Programms zur Verarbeitung von Kälbern zur Schlachtung geschickt zu haben.
#NewInvestigation Exposes One of the Darkest Corners of the #DairyIndustry https://t.co/PakmieBL6p via @sentientmedia #DerekWhittall #OaklandLivestockCentre #calfdealers #calves #maledairycalves #calfslaughter #animalcruelty #animaldeaths #AnimalJusticeProject #AnimalWelfare

— AnimalWarriorsGlobal (@A_W_Global) April 28, 2021
Nach der Recherche wurden die mit dem Giganten Müller Milch in Verbindung stehenden Milchbauern angewiesen, keine jungen Bullenkälber nach Oaklands zu liefern , und Sainsbury's untersucht die " inakzeptablen Praktiken ". 
 Männliche Kälber: kaum auf der Welt, werden sie getötet
In diesem speziellen Fall enthüllte Derek Whittall, dass diese Kälber häufig zu Kebabs und Tiernahrung verarbeitet werden . Weitere Untersuchungen von Sentient Media haben jedoch auch eine weitere schockierende Tatsache ergeben – die weit verbreitete Verwendung der Häute dieser Kälber für Leder. Vom Undercover-Ermittler von AJP erhaltene Papierbelege zeigen, dass die Häute nach dem Schlachten im Schlachthof von Chester an die Central Hide and Skin Company in Derby verkauft wurden. Dies stellt eine entscheidende Verbindung zwischen den auf dem Markt beliebten Lederprodukten und den häufig verwendeten Milchprodukten her. Für die Verbraucher ist es auch wichtig zu verstehen, wie eng diese Prozesse miteinander verbunden sind.
Es gibt viele Gründe, warum sich immer mehr Menschen für eine Alternative zu Milch entscheiden, von der eigenen Gesundheit über ethische Gründe bis hin zum Umweltschutz.
Warnung: Dieses Video enthält Grafikinhalte.
New Investigation Exposes One of the Darkest Corners of the Dairy Industry
he interest in vegan and vegetarian products in the UK is on the rise, especially after consumers become aware of the cruelty involved in producing animal-based foods. However, the dairy industry has managed to fly under the radar and present itself as an ethical industry. This claim now faces the challenge of an investigation into one of the darkest corners of the dairy industry: calf dealers.
Undercover footage released by the Animal Justice Project (AJP) earlier this month shows calves as young as nine days old being kicked, beaten, and thrown at the Oaklands Livestock Centre in Shropshire, UK, that deals with dairy farmers who supply milk to a local retailer, Sainsbury's, via the dairy giant Müller. This center acts as a major hub for male dairy calves and is owned by the renowned calf dealer, Derek Whittall.
Among the regulations violated include the Animal Welfare Act, the Welfare of Farmed Animals Act, and Council Regulation of European Union. This is also not the first infraction for Derek Whittall; he has a previous conviction for sending ineligible calves to slaughter under the government's Calf Processing Aid Scheme.
Warning: this video contains graphic content.
So how did these young calves end up with Oaklands Livestock Center in the first place?
"Supermarket and industry bans prevent young calves from being shot on dairy farms. However, while farmers cannot shoot the calves, they can sell them. That is where the problem starts," says Claire Palmer, the founder of AJP. "These collection centers, like the one owned by Whittall then send these calves as young as nine days old to either a rearing facility, or a slaughterhouse," she adds.
Among the violations recorded at Oaklands include calves lifted by tails and pulled along by their ears; calves scared unnecessarily using plastic bags, and fragile and unweaned calves thrown and hit repeatedly. The calves were also not fed the legal requirement of two feeds per day and were kept for 21 hours without food and completely without water, which is a breach of the Welfare of Farmed Animals Act which states "all calves must be provided with a sufficient quantity of fresh drinking water each day," and "all calves must be fed at least twice a day."
Some young calves were also taken by Whittall to the G & Gb Hewitt abattoir in Chester. While according to the regulations outlined in Welfare At The Time Of Killing Animals (WATOK) the animals should be immediately slaughtered so as to spare them the pain, stress, and anxiety, they were left overnight at the lairage. The footage also shows that the calves were not checked by an Animal Welfare Officer, which they should have been.
FSA "investigating" the matter
The Food Standards Agency (FSA), Animal and Plant Health Agency, and Trading Standards are investigating the footage. The FSA, in particular, has released the following statement to Sentient Media:
The Food Standards Agency takes animal welfare at abattoirs very seriously and an investigation into these allegations is underway. We cannot comment on individual cases but where non-compliance with legal requirements are identified we take appropriate action in response, to prevent any further breaches.
When asked what measures have been taken for ensuring animal welfare at abattoirs, they responded by saying that they have staff present during operations and mandatory requirement of closed-circuit television (CCTV) cameras in slaughterhouses. This raises many important questions and highlights certain loopholes. Why did the FSA staff not detect this serious breach of violations through their staff on-site and via CCTV cameras? And while they have measures in place to regulate slaughterhouses, why have calf dealers, which form an important part of the dairy industry, not been scrutinized?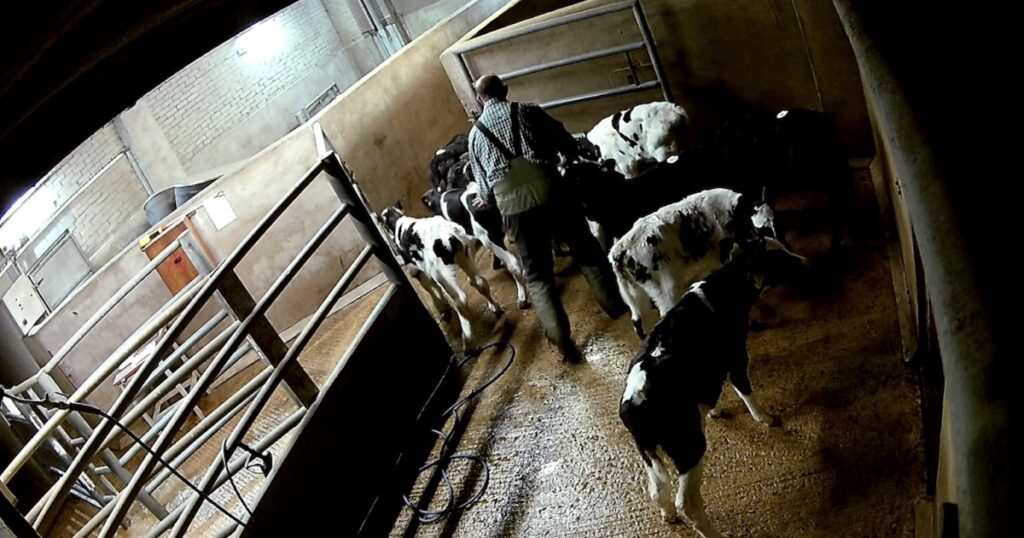 There also has been little to no clarity on what will happen with the investigation so far. Palmer said that the FSA is yet to ask for footage, and the agency has seldom taken action on their investigations, except in the violations by Gressingham Duck, which were largely considered to be equipment failures, not matters of animal ethics.
Meanwhile, dairy farmers associated with Müller have been instructed not to supply young bull-calves to Oaklands, and Sainsbury's is investigating the "unacceptable practices."
What the investigation reveals about the dairy industry
While it is easier to think that the dairy industry is not complacent and instead separate from the killing of dairy animals, this investigation says otherwise.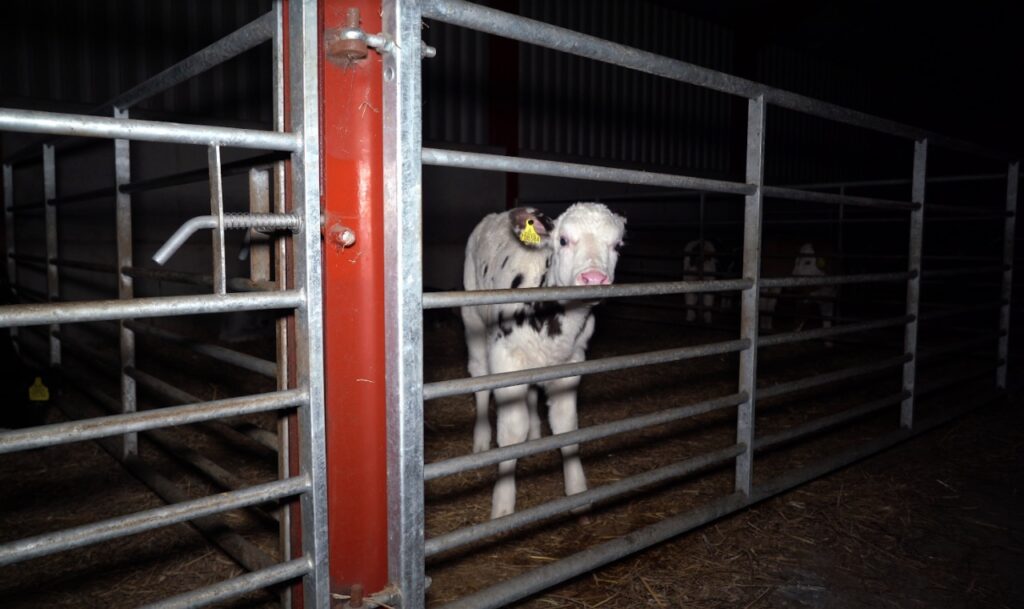 Calves who are neither fit for the dairy industry nor the meat industry are of no use. All the time spent in keeping them alive is less profit for the industry. In fact, this dilemma is discussed at length on various dairy farmer forums online in the UK, with many farmers discussing how important it is for the dairy industry to kill useless calves, since they cannot access their mothers' milk and are therefore just another mouth to feed to the dairy industry.
The industry has for years made consumers believe that dairy milk has little to no role to play in the deaths of days-old babies and spent mothers. However, this investigation reveals that the industry cannot separate itself from the killing that happens at a slaughterhouse just because they are not physically doing it themselves. They operate in an ecosystem that depends on the exploitation of cows from birth to death. They sell the milk for profits and use dealers like the Oaklands center to solve the "problem" of bulls they cannot milk and calves whom they cannot allow to spend time with their mothers. The question when it comes to the dairy industry is not if the cows go for slaughter, but when.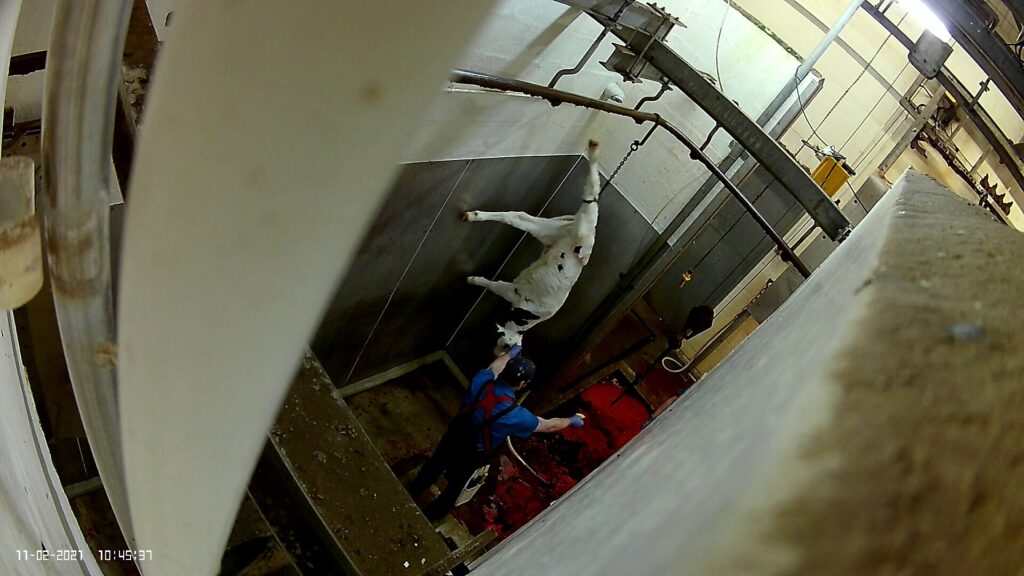 In this particular case, Derek Whittall revealed that these dairy calves often become kebabs and pet food. However, further research by Sentient Media has also revealed another shocking fact — the widespread use of the skins of these calves for leather. Paper receipts obtained by AJP's undercover investigator show that after being slaughtered at the Chester abattoir, the skins were sold to the Central Hide and Skin Company in Derby. This establishes a crucial link between popular leather products in the market and commonly used dairy products. It is a link that is also important for consumers to understand just how deeply connected these processes are.
The footage also reveals the distant, compartmentalized way in which animals are viewed and hence treated. The workers constantly hurl abuses on the calves, even though all the calves are doing is trying to move around their fragile bodies that have been deprived of the essential nutrition that they need to sustain life.
It is imperative to ask why the dairy industry should be excused of these consequences just because the acts did not happen directly on their farms. It is also important to understand the underplayed role of calf dealers in connecting various segments of industries dependent on the exploitation and slaughter of young bull-calves.
The ever evangelical, magical facade that the dairy industry puts up is not able to hide the overt links that it has with the suffering and abuse that takes place after animals leave their farms.
Netzfrau Doro Schreier
Netzfrauen auch auf >>> Instagram >>>>mit vielen Bildern und Informationen!
Warnung: enthält Bilder, die Sie beunruhigen könnten! 'Einige der dunkelsten Orte der Welt': Joaquin Phoenix zu einem Bildband über Schlachthöfe – Warning: contains images you may find upsetting – 'Some of the darkest places in the world': Joaquin Phoenix on a photobook about slaughterhouses
Schwimmende Todeslager – Viehtransportschiffe gehen doppelt so häufig verloren wie Frachtschiffe – The Truth Behind Exporting Live Animals – livestock ships twice as likely to be lost as cargo vessels
"Grausames Geheimnis" der Milchindustrie! Männliche Kälber: kaum auf der Welt, werden sie getötet – The Dark Side of Dairy – 'We Can Learn A Lot From Vegans', Admits Dairy Farmer